Moose
Moose is an advanced Windows frontend client for controlling and providing information about units connected to Logitech's Squeezebox Server.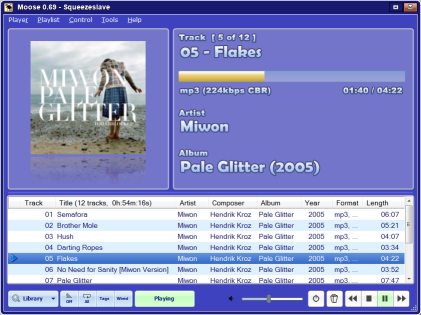 Moose uses CLI commands over a network to talk to the server, so works whatever platform your server runs on and doesn't need to be on the same PC as the server, although it can if you want.
---
Download Instructions
To use Moose to its full potential, you may need to download and install the following files, particularly the last one:

File
Description
Microsoft .NET Framework 4.0
Moose versions 0.75 and later use .NET 4.0. If you've not already installed this, Moose wont run. At all. You can also get this via Windows Update.
(If your version of Windows is too old for .Net 4.0, grab .NET 2.0 and stick with Moose 0.74)
Microsoft VS2010 SP1 runtimes
If you're using server 7.6 or later, Moose's SQLite scanner seems to require this version of Microsoft's C++ runtimes. Without them Moose will function, but SQLite scanning wont work.
Moose077.zip
This is the latest version of Moose. Unzip Moose.exe from the zip file into a folder and either double-click it to run, or create a shortcut and double-click that.

Full details of how to set up Moose are available here. (Yes, yes, I know it's a little out-of-date in places)

Moose is both ad-free and, well, free-free, and I want to keep it that way. If you're feeling generous, donations via paypal are always welcome or you can make my day with a gift from my Amazon wishlist.

Ideas and issues always welcome via email drlovegrove@gmail.com or on the forums. There's also a low traffic mailing list for release announcements and the like.

Sit back and enjoy your music...









---
Release History




---




For news and updates, join this fellow:

NB: Please send support questions to my email address or the forums, rather than the group.




---

---




Comments, hello's and suggestions welcome: drlovegrove@gmail.com

Help keep Moose alive. Donations (paypal) and gifts (Amazon wishlist) always welcome.

---